Dial 911 for Emergencies!
The City of Billings works hard to keep our residents safe. This is the place we will post more information about our Police and Volunteer Fire Department and updates about our local FEMA shelter. We will also include links to the county Sheriff's office.
FEMA Shelter
The FEMA Shelter is located next to the Billings High School. The building will be opened in the event of a tornado warning. This picture is from the Billings School District page.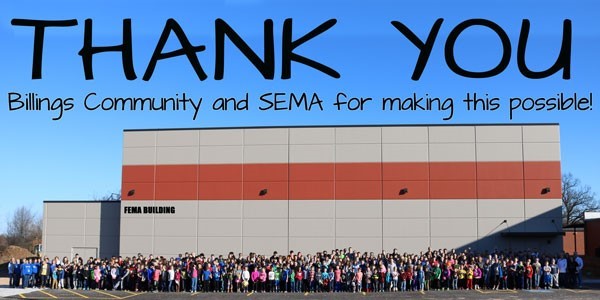 Storm Siren Update
The Billings Fire Department had taken the storm siren down and sent it off for repairs after it stopped working. The company said it was not repairable. The Fire Department is working with a couple companies to find a replacement. If severe weather comes, the Fire Department will drive their routes in their trucks with sirens going and announce over the Public Announcement at a slow speed.
Fire & Rescue
Our volunteer Fire Fighters are in the Billings Fire Protection District. Henry Bos is our Fire Chief. Their current contact information is
Physical Address:
Billings Fire Protection District
104 Washington St
Billings, MO 65610

Mailing Address:
Billings Fire Protection District
PO Box 318
Billings, MO 65610
Phone: (417) 744-4228 Fax: (417) 744-4471 Dial 911 for Emergencies!
You can search our ordinance section here to find out about animal control, landlord property maintenance and licenses as well as other other public safety issues.